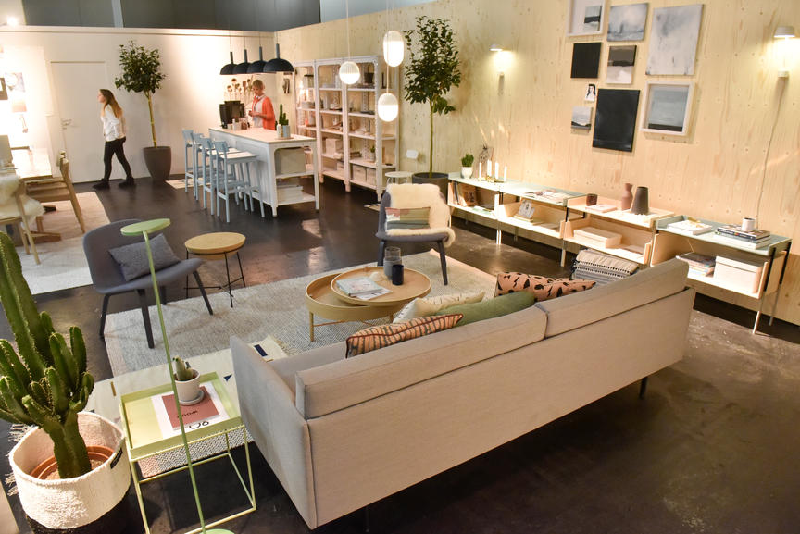 The most important trend in the interiors world: There is no longer a right or wrong. Not only life is contradictory - our apartments are too! Leather is placed next to plastic, reduced design next to nostalgic vintage items, cool grey and white tones in the living room next to a pastel-coloured kitchen and a dark-green bedroom. Everything exists next to each other. And yet certain trends are becoming apparent in the run-up to imm cologne 2017 that are dominant in their respective section.
Why does one of the most famous German designers want to collaborate with craftsmen from Colombia? Why are natural materials in higher demand than ever? And why are accessories and smaller pieces of furniture at the top of the list of the buyers? This year, furniture with a story, natural materials and small, well-designed products are playing a major role in the new living environments. In terms of colours, besides the big grey theme, traffic light variants in red and green are popular and the hip cosiness is leading to a sustainable revival of wallpaper, carpets and textiles in the interior design world.
An era of opposites
It is particularly noticeable as far as the colours are concerned, but it can also be observed in the choice of furniture: More and more often different furnishing styles are being favoured - sometimes even in the same apartment, as the colour expert Dr. Axel says: "More and more contradictory shades are being combined in the apartment. We seek both in it: sociability and retreat, attraction and delimitation. We invite people in and flee from company. We don't like to entirely commit ourselves. We love objectivity and cuteness at the same time. And these are mixed together in some way."
But we not only like to mix opposites within our own four walls - our lifestyles are also lived out alongside each other and simultaneously as necessary. Not only Todd Bracher, Guest of Honour in the design process of "Das Haus - Interiors on Stage" in 2017, yearns for both in secret: A life with high-tech and with nature, a life in a log cabin, yet with a smartphone. The private lives of people are developing more and more into a place of simultaneous work and leisure, sociability and retreat. It is not without good reason that the apartments are becoming cosier, as imm cologne already announced a few years ago. One seeks the well-being atmosphere in it which makes the globalised and in some respects threatening life bearable. And yet it is no longer the same individualistic trend towards retreat that dominated the society in the 1990s. In the future report 2017 the current, attitude towards life that seeks aesthetic and social warmth is referred to as "hygge", a Danish term (pronounced like "Hügga"). Hygge is a softer and more social version of cocooning, a way of life where one concentrates on small things, things that are really important: Spending more time with friends and family and enjoying the good things in life. Hygge, according to the trend report, is an anti-model to the fleeting urban lifestyle - within the urban lifestyle. This is not about a "new bourgeois" approach, but about an enlightened design attitude towards things, people and situations.
Hygge and the trend towards light, friendly pastel colours as well as natural green shades are turning Scandinavian-style furniture into an absolute hit. Small, natural, unpretentious, yet still often also of unusual and cheeky design - these are the ingredients that allow cosiness to be created, a place where both modern style and a traditional well-being ambiance are at home.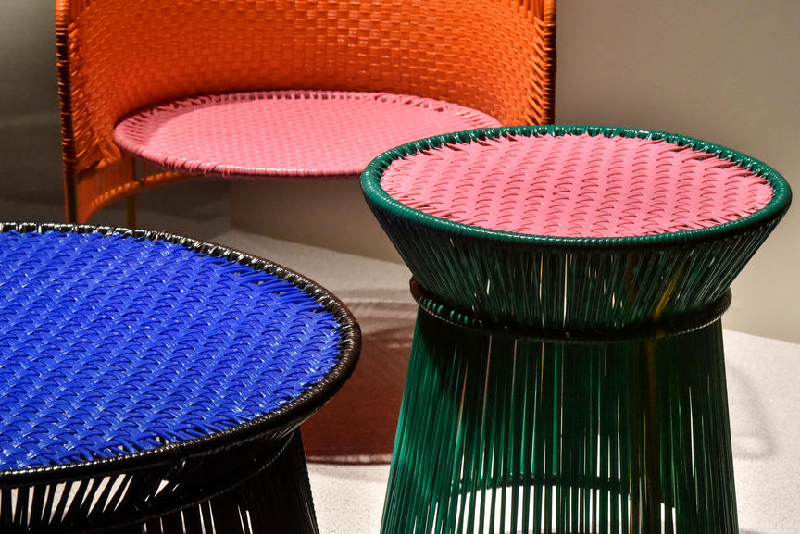 Furniture with a story
For the development of a complete home collection for ames, Sebastian Herkner, Guest of Honour of imm cologne 2016, once again broke new ground. This time he sought a collaboration with Colombian craftsmen: In Santa Marta, in the Colombian Caribbean, Rafael and his friends produce woven stools made of plastic string and steel - furniture and a technique that co-shape the image of the entire coastal region. The familiar "Momposino" weave is taught in school as a craft in this region of Colombia. Together with Herkner they spent an entire weekend finding the best method to realise the round shapes created by the German designer and selected fresh colour combinations full of the zest of life. Ames is presenting the Caribe furniture series for the first time at imm cologne 2017 as part of the ames sala collection. 
The new, outdoor-compatible furniture family - comprising of a chair, lounge armchair, a higher and a lower large side table as well as a wicker table - combines different coloured plastic strings with a galvanised or powder-coated frame made of tubular steel and steel wire.The Caribe series stands for a trend in the interiors industry that will perhaps never become mainstream, but which is exemplary for the growing need for meaningfulness among the manufacturers and consumers. And contrary to some expectations, this trend is evidently being carried by the market. It is not always the case as here that one succeeds in combining sustainable production with an aesthetic concept in a pilot project while at the same time also accommodating the increasing interest of people for authentic products. However the number of products that tell their own special story is constantly growing.
Natural materials for individual furniture
Natural wood furniture is at the top of the wish list when searching for authenticity, because it is always something special - one can see it, smell it, feel it. The trend towards natural materials will most probably experience its preliminary climax at imm cologne 2017. Solid wood is even taking the climatically difficult environment of the bathroom by storm. Manufacturers, who have been focusing on solid wood furniture for many years, will without doubt enjoy a higher level of trust here. Together with the bathroom furniture manufacturer, Keuco, the company Team 7 from Austria has developed the Lignatur edition: A bathroom interiors concept comprising of furniture made of natural wood. These pieces of bathroom furniture are unique specimens: Each individual item is manufactured individually. Single or double basin solutions, with sunken or superimposed basins, sideboards, tall cupboards and benches are made out of three high-quality natural woods: Fine walnut, light-coloured oak as well as Venice oak - which offers a very special appearance because of its natural decorations resulting from the shipworm.
Intelligent living: Smart home
Will we soon all be living in smart apartments or houses? The trend towards intelligent living seems to be very popular with many Germans - the results of a representative survey that was carried out by the energy and telecommunications service provider EWE in collaboration with the Society for Consumer Research e.V. (GFK), prophesies a big future for the theme smart home: If the intelligent home is understood to be a way of increasing the living comfort and sinking the energy costs, the majority of all Germans (65.2%) are interested in it. Furthermore, the GfK survey examined the ulterior motives of those people, who stated that they are not interested in smart home solutions (22.1%). The two most frequently stated reasons: Costs are too high (46.4%), and the fear of losing one's own privacy (39%). 1,001 people throughout Germany over the age of 14 were interviewed in the course of the survey.
Doing a lot with little space...
Indeed the solo artists among the furniture seem to be riding on a wave of success. Small pieces of furniture, such as side tables for instance, small shelves, stools, wicker furniture, consoles or mini-cocktail armchairs are currently very popular. Stools that are progressing into the favourite product in the apartment again are benefiting from this development. These increasingly include characteristic chairs (mostly developed by famous designers) - for the individual furnishing of the often small apartments. "One of the challenges I currently see is doing a lot with a little space," explained the designer, Dick Spierenburg. Cities and towns are becoming more expensive, and space increasingly scarcer. Developing furniture that can do more is almost more interesting for designers today than designing luxury pieces. It's very exciting to design for a wide target audience that is intelligent and has taste, but doesn't have very much space to live in," the Creative Director of imm cologne assessed. The development in the "small furniture" section is at the same time driven by the increased online purchases of furniture.
Create moods using light: from decorative to industrial
For a time, it seemed that track, rod and rope-based lighting systems had hit an impasse. But thanks to the LED and OLED technology, these systems are undergoing a real revival of modern lighting design. In recent years, the subject of lighting has attracted attention at the international interiors show imm cologne, particularly due to lights that have created mood and introduced pleasant spots of colour into interior design, using unusual shapes, materials and dimensions. However, now new LED bulbs are once again turning rope, track and rod-based systems into a viable alternative for many people. Thanks to the electricity-saving LED technology, they are not only highly efficient, but also ultra-slim and versatile. They can be used as discreet, or even suspended, solutions for accent lighting, concealed lighting, uplights or as elegantly designed functional lights above cupboards and long-length dining tables. The manufacturers and designers of high-quality lamps create emotional and poetical models, where the source of light is artistically integrated into the design. Whether natural, glamorous or industrially chic: imm Cologne highlights current lamp trends with new products and design classics staged in inspiring presentations.
The four most important colour spaces of the season 2017 
Different developments seem to be emerging at imm cologne 2017 as far as colours are concerned. Life in grey is the first thing that comes to mind here - shadows of grey with all of the gradations between black and white, which form a very popular colour world. Adjacent to this is life in white, which can be combined with various pastel hues. Particularly the combination with blue transports a reduced Nordic attitude toward life: this colour scale feels Scandinavian, fresh and airy. Thirdly, a life in nice and friendly pastels is being sought, with a refreshing, motivating and cosy feeling. The fourth colour theme shows a comfortable and pleasant colourfulness that reflects more of a traditional attitude toward life with a modern and functional orientation, with colours that stand for authenticity. 
Sometimes dynamic, sometimes soft: Red as a surprising accent colour
It's the surprise of the season: Red is the primary colour that is proving especially popular as an accent colour with trendsetters and leading design brands. Few people expected it, but now it's here - as a bag to go with an outfit, in seventies-style tile designs in bathrooms or as classy couch cushions. Perhaps pink paved the way for red to enter our homes, having enjoyed continued prominence since last year with flamingo and watermelon shades. Ultimately, even bright reds no longer look so intense in tone-on-tone combinations featuring shades edging towards pink, and it creates a cheerful, almost subtle, look. It creates a genuinely classic look when contrasted with black and white, and it goes particularly well with pale shades of beige and grey in living rooms.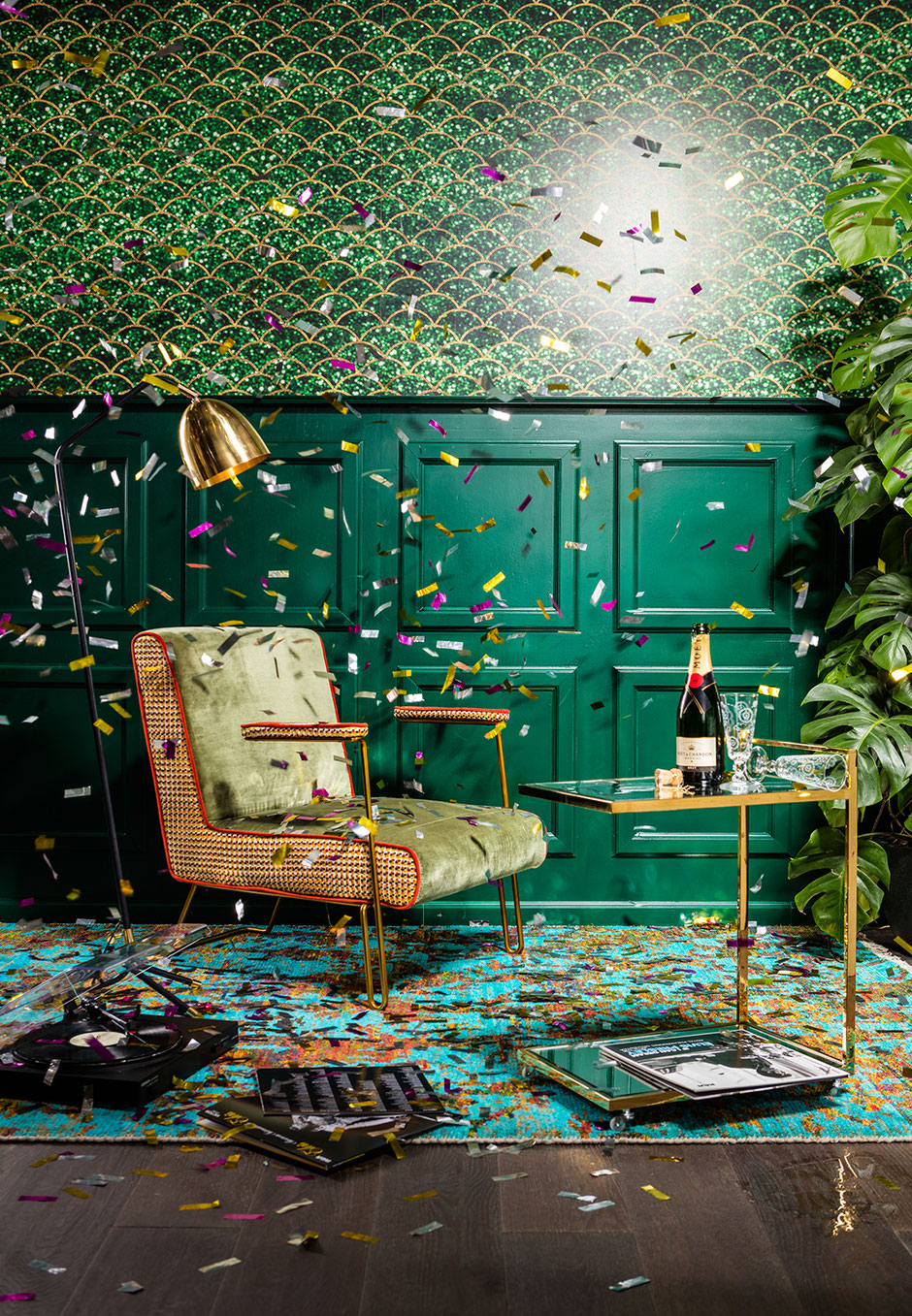 Green is the dominating trend theme in interior design
In the decorative section all possible shades of green are the current trend. However, the colour trend that is currently bathing our living rooms in elegant dark shades or a fresh ambience has nothing to do with the hunter green referred to in the traditional German children's song: From subtle mint through to strong grass and fine fir green, to nuances of taupe and petrol blue, green tones are finding their way into the home in a big way. At imm cologne, the leading manufacturers of the industry will be presenting high-quality and exclusive textiles in Hall 3.2. Here, visitors will be inspired by attractively presented, fabric-filled interior fantasies.
Carpets and rugs, wallpapers, textiles - the revival of fabrics in the living area
For a long time, carpets and rugs had it hard in modern households, whose fashion-conscious members preferred to rely on wooden floors and other textile-free materials when it came to choosing the right flooring. Walls had to be equally clean - homeliness achieved, at best, with an occasional lick of paint to relieve the otherwise uniformly white walls. But gone now are the days of minimalism and the accompanying lack of textiles in the home. At imm cologne, many exhibitors are holding a wide palette of new designs and grades of fabric in store for every situation and circumstance.
Upcycling and the next ecological wave in interior design
The trend researcher will know that a trend has reached its preliminary climax and has hit the mass market at the latest when one can buy brand-new euro-pallets in DIY stores to build one's own tables and chairs out of. Nevertheless, the remarkable approach of reusing old furniture or materials for new compositions is not only appealing, but also environmentally sound. And as such it is a sign of a gradually increasing trend towards ecologically convincing concepts. Interior items will in future be more and more frequently developed based an ecological point of view and this will also be the criterion that determines the consumers' choice. This has been observed for several years at the world's leading trade fair for furniture production and interior design.
Outdoors or indoors: everything is possible
Furniture for outdoors is becoming more and more flexible and decorative. The times of uniform plastic stools for the balcony and garden terrace are over. New material developments are bringing more and more design and decorative elements to the outdoor area. This leads to further application options for outdoor furniture. In this way for instance processing modern, weather-resistant materials using the original rural wicker and hazelnut weaving techniques is what lends the new Grand Weave collection by Gloster its natural charm that also looks great in the apartment. Hence, more and more outdoor furniture can also be used indoors - and a new product category is ensuing as a result.