outdoor kitchen
To furnish an outdoor space with a kitchen that is not only functional, but also complies with precise canons of aesthetics and ergonomics.
This is the philosophy that has prompted Modulnova to create the new outdoor kitchen previewed during Milan Design Week 2016.
The new project combines rigorous lines and rational organization of space, to meet the needs of functionality and practicality of those who love the great outdoors.
On a patio, the terrace of a metropolitan penthouse, by the pool or in a flourishing garden: the Outdoor collection (designed by Andrea Bassanello) tastefully enhances any setting, encouraging the convivial pleasures of cooking and dining in the open air.
Epoxy-coated steel and Piasentina stone are the materials chosen for this new project, ideal to resist moisture, weathering, temperature changes and wear. The use of painted steel reflects a precise aesthetic choice: to take the kitchen outside the walls of the home, making it the protagonist of outdoor spaces.
Besides the classic barbecue grill, a pizza oven, a fryer, a teppanyaki grill and an induction burner (for traditional cooking), the system offers two storage zones (for wood and cooking utensils), a washing area, a beverage cooler, an ice machine and a basin, also in Piasentina stone.
(via internimagazine.com)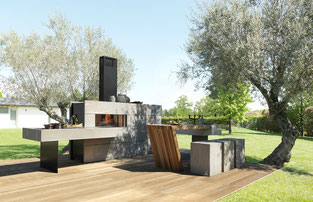 Fire block
The kitchen consists of a main block which has a wood-burning oven with storage and fronts which conceal both a fridge and an ice-maker.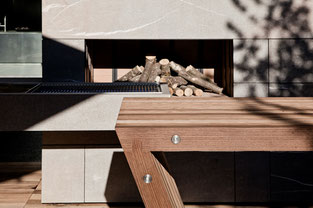 floating workshop
A floating workshop is set at a right angle to the main block which has an integral barbecue pit and a deep stone sink. It connects to the table constructed from solid Teak slats and set with Pietra Piasentina stone block stools.