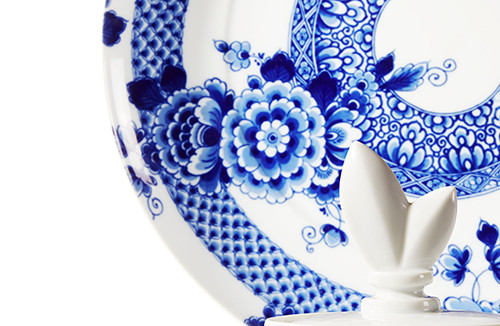 In collaboration with Vista Alegre, Marcel Wanders presents a choice selection of exquisite pieces that are a part of the Blue Ming collection at Maison & Objet, January 22-26, 2016. The items, which are very symmetrical with sculptural elements, highlight the Dutch heritage of the Delft Blue, creating the ornament of the pieces. Within each piece, you'll experience the mingling of two cultural histories and countries as the Dutch Delft Blue and the Cobalt Blue share heritage of past ages and forge a new language and artistic expression. Built from a cylinder, the pieces feature additional sculptural flower and leaf shapes to complement the blue graphics.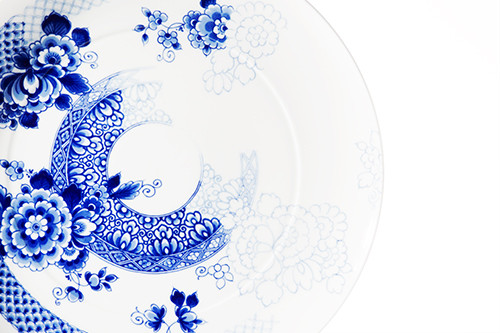 The pieces of this set that are serving as the launch for the complete Blue Ming collection include: the big tea cup and saucer, the espresso cup and saucer tea pot and sugar pot, a fruit bowl and soup terrine. The Blue Ming collection also features a candleholder and the flower vase, which are more sculptural iconic pieces that offer unique versatility. By removing the top of the vase, you create a small bowl in which to place chocolates or other small treats. Not to be outdone, the candleholder is also adaptable. In addition to a candle, it can be used to hold a flower, or it can work as an iconic piece to furnish your table. This high-end, well-made ceramic collection is completed by a range of plates: desert, bread & butter; soup, dinner, charger and serving. The borders of these pieces reveal different patterns and when stacked, you experience all their richness in a re-interpretation of the traditional Delft Blue.
The partnership between Marcel Wanders and Vista Alegre brings together two iconic creators of craft and design. With a Portuguese history that dates back to the 1800s, the Vista Alegre brand has become renown for its investment in luxurious innovation and artisan design. The collaboration with Vista Alegre represents for Marcel Wanders the chance to work with a manufacturer that shares his ability to continually evolve and adapt to social and aesthetic changes. With a mutual passion for producing exclusive, personalized porcelain pieces of the highest quality and functionality standards, the Blue Ming collection stands as a harmonious combination of tradition and modernity.