The teamLab – FLOATING FLOWER GARDEN SPACE / Have you ever opened the doors to a garden with thousands of levitating and perfumed flowers? This exceptional and highly poetic sensory experience will be presented to you by teamLab at the entrance of hall 7.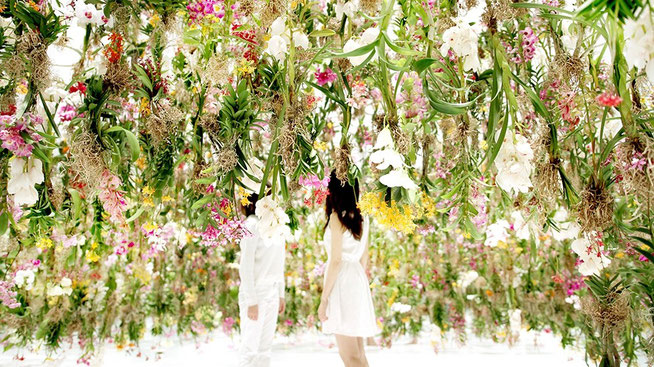 After last season's dreamy banquet of birds and flowering cherry branches, the Japanese techno-artists return to Villepinte with an amazing botanical fairyland. 2,300 suspended flowers, with their roots anchored overhead, float in a vivid white bubble. Petals, leaves and pistils blossom in the silence of the carnal and mysterious garden. The place evolves since the flowers grow each day thanks to the technological
prowess of teamLab. As if endowed with a conscience, they rise when the spectator approaches, creating a dome over his head, and then descend once again. If visitors stand in a group together, the botanical chorus is amplified but the flowers remain evasive.
This 3-D metaphor takes inspiration from a zen kôan, those part-fable, part-poetic Buddhist enigmas. TeamLab's founder Toshiyuki Inoko tells us that in the 13th century, a zen priest left his meditative retreat in the mountains to teach the path of awakening. One day, he pointed to a flower in a garden: "People today see it as if they were in a dream", he said. "The Heaven and I come from the same roots. Everything around me and myself as well are made of the same substance".
This is the installation's philosophy: the delicate link it weaves between visitors and the ecosystem offers a way to restore our sense of unity with Nature. By modeling the wonders, the experience of a flower garden awakens us through the magic of algorithm and introduces the visitor to teamLab's ecological message.
To discover at
scènes d'interieur. Hall 7