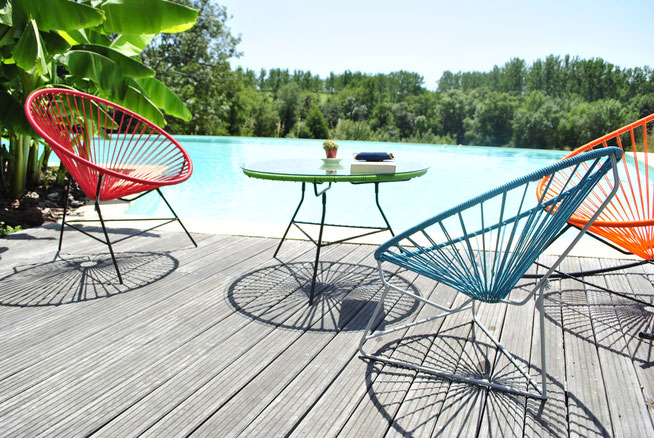 For people who had visited Mexico know that this country is magic.
The culture, or cultures at plural, the mix of tradition Mesoamericaine and Spanic influence create a singulary area of discovery and exchange.
The blend of color is everywhere. Architecture, where yellow and copper ocher are cross with blue cobalt over colonial building.
On the market place, where pomegranates, mangoes and guavas succeed in harmony. Also in nature, where the turquoise Caribbean Sea is rivaled only by the beauty of the vegetation of the Barranca del Cobre.
Mexican handcraft doesn't escape to this rule: craftsmanship is undeniable, originality is obvious, colors are everywhere. It is in this context that originated in the 60s a masterpiece of Mexican design, now considered retro and internationally known as the Acapulco Chair.
The result for us is only a logical consequence. The time spent traveling across markets and flea markets of Mexico in search of original pieces. And then one day, the desire to give a new life to this classic design in gardens, terraces and interiors of French. See what this alchemy have to give in the French countryside. Boqa was born.
Today, a group of Mexican artisans and Boqa revisited the Acapulco chair and offer original and durable parts for comfort and aesthetics, weatherability, wide choice of colors, collapsible and stackable models to optimize storage space and transport.
Our goal is to make available the design and retro styles of Acapulco chair by focusing on our favorite and a unique experience with Mexican artisans. In fact, we deal with them directly, without intermediaries.
This approach is a real benefit:
This allows us to have a great product availability and to avoid long and not mastered waiting times before receiving our products. Boqa is a small structure that has its own stock of seats in France. In addition, we offer a wide range of colors (between 4 and 16 colors depending on the model) and maintain the flexibility to send you the truly original designs and trendy colors.
In addition, through a presence in France and Mexico, we are working closely with the Mexican artisans and ensure that they benefit from our experience in the field: adaptation of new models, defining new colors, return of experience. Finally, we have our own garment factory in France where we develop several prototypes and even produce some models, in strict compliance with our quality charter in response to our customers' requirements.
From the craftsman to your home without intermediaries that's our concept in BOQA.
So if like us you like the design of the chair Acapulco, come and discover our products.