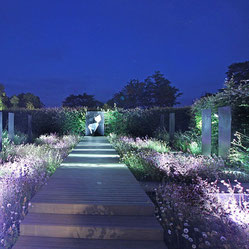 Accoya® Deck, the decking product made from world-leading modified wood Accoya, demonstrates its superior stability and durability as the Chaumont-sur-Loire International Garden Festival in France enters its fifth month.

The garden festival provides one of the toughest challenges for wood products due to the event's popularity and high footfall. The six month festival welcomes around 250,000 visitors each year, and installations such as decking need to be able to withstand the demands made by carrying vast numbers of visitors.

Accoya Deck, one of the highest quality decking products on the market, was selected for use in one of the twenty six gardens on display at this year's festival. Architectural designer Hay Joung's design 'The Balance' utilises Accoya Deck as a primary element of the garden, with the wood used in decked paths and see-saw structures within the design.

Despite high footfall and after an estimated 165,000 visitors to the site so far, Accoya Deck has retained its original form and structure. Weather ranging from heat to heavy rain since the festival opened on 25 April would be a challenge for many decking products, but the Accoya Deck present at the festival has not splintered or warped and has retained its original aesthetic qualities.

Architectural designer Hay Joung of Randle Siddeley Associates said, "Choosing Accoya for this project was a conscious decision. As well as being sustainably sourced and non-toxic, the modification process which takes place to form Accoya means it is superior to hardwood equivalents and makes it ideal for outdoor use. I am very happy that I decided to use Accoya. Thousands of visitors have walked across the deck this summer and the wood has remained dimensionally stable and beautiful to look at."

The festival, which runs until the 2 November, is an opportunity for leading garden designers to showcase their work. A panel of internationally renowned judges determine which designs are chosen to be showcased as part of the festival each year.
The design of the garden reflects the theme of this year's festival, 'The Gardens of the Deadly Sins'. Hay's garden includes stone monoliths which represent the seven deadly sins and seven heavenly virtues connected by Accoya wooden decked paths. The 'see-saw' structures of Accoya symbolise the need for balance in life.