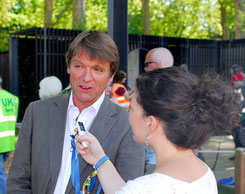 One of the worlds most expected garden shows, the RHS Chelsea Flower Show inspires professionals and enthusiasts around the world. Garden designers, landscape architects and all of us that like beautiful things can get ideas and practical techniques that we can apply to our own spaces. One of the most acclaimed designers  is the one and only Andy Sturgeon, he gets his inspiration through travelling around the world and brings it together with elegance and a very british touch. The spanish influence in this garden in particular take us to the warmth of the Californian landscape, exotic planting with some complexity, textures and colours that relate with the structure of cor-ten steel. In the begin of the garden two paths are presented and like in life choices need to be done, the journey takes us through different views from the garden and different experiences, but both paths come together in the end in a contemplative terrace space. A beautiful space that uses a lot of vertical lines to create more interest and mystery.
Ideas to take from this garden:
Use views to guide the visitor through the garden

Use focal points

Use more textured materials in a very linear way

Relate the colour of some materials with the flowers or leaves of the chosen planting

The Daily Telegraph's garden at the RHS Chelsea Flower Show 2010 has won best in show.